The Digital Assessment is the starting point of the entire vertical integration process. The method aims to provide an overall assessment, designing a system digital path that meets strategic business objectives. In fact, the 4.0 technology transformation of a company begins with realising its level of digital maturity.
Assessment is a survey methodology useful for examining, through the analysis of internal processes, the state of digital maturity of a company and its ability to implement enabling technologies and organisational innovations that make its business model more efficient.

The Digital assessment approach rests its foundations on the optimisation of business processes in Lean Logic and is the essential prerequisite for the effective and profitable adoption of new technologies while avoiding digitisation waste.

Digitize and increase business operational efficiency
Through the completion of a questionnaire, together with our partner Digibelt, an expert in process digitization optimization, we are able to:
- Measure the level of digital and technological maturity of a specific perimeter of the corporate reality
- Assist companies in identifying the strategic objectives that digital transformation must support
- identify the possible critical issues, cultural, technological and process, of the implementation of Industry 4.0 transformation
- Draw a digital roadmap by identifying the main legacy systems involved and the most strategic KPIs to be monitored

Indeed, through the Digital Assessment it will be possible to identify the best technological solution to respond to the organizational efficiency of processes and people without digitizing waste and creating further inefficiencies.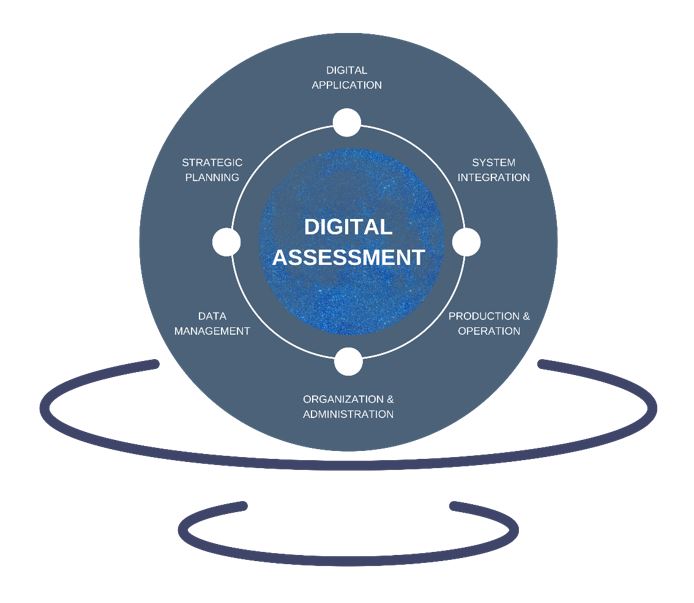 Business model and value proposition

Through careful preliminary analysis we identify the activities that are really needed and suggest the most efficient solutions for a digitization process that aims for "no waste."


We design a system that meets strategic business objectives and supports them through data.
Enabling technologies for maximum efficiency - Quick Root Inefficiency causes identification
We analyze the AS-IS state of the business reality from the perspective of legacy systems and data sources needed to identify the best TO-BE technology infrastructure to implement.

Ready-to-use tools to support the rapid identification of the main causes of waste, inefficiency and defect. Dashboards and reports with ready-to-use KPIs fed in Real-Time from interrelated data enable rapid, data-driven decisions.
A Data Driven and Data Quality Pathway.
We simplify access to data from all sources, through state-of-the-art open technologies (Web Services) or through more than 200 standard protocols from the OT world.

Utilization of data, transformed into valuable information through tools that simplify data visualization in the Enterprise and enable "data driven" process and product improvement choices.
Digital Roadmap
We analyze the results of the preliminary and criticality analysis in order to define the digital roadmap consistent with the identified business objectives.

We design a Business case with quantification of the development and implementation time of the Lean Industry 4.0 solution, estimation of costs and achievable benefits.